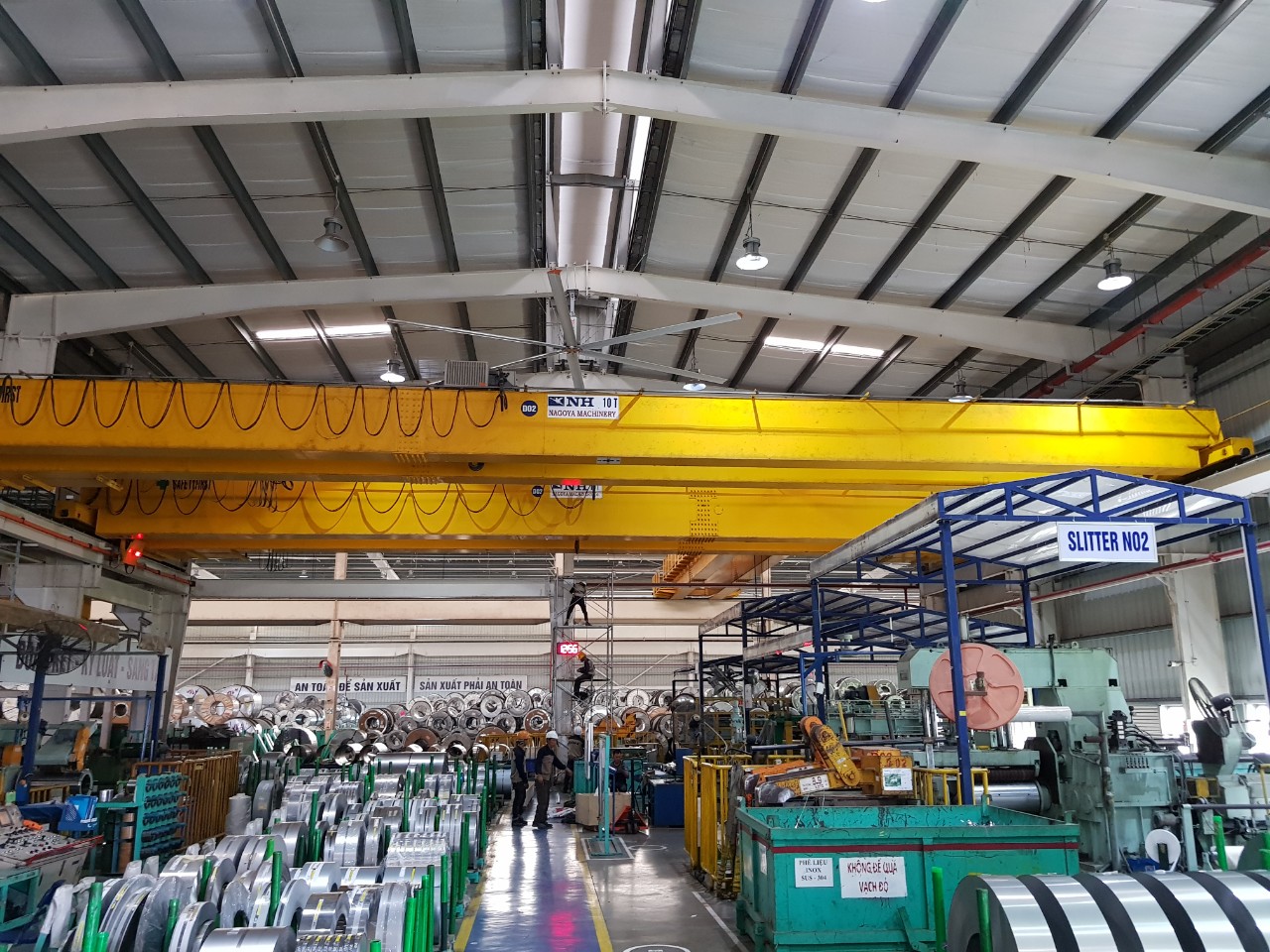 13 Dec

BIG CEILING FANS HELP IMPROVE THE EFFICIENCY AND SAFETY OF EMPLOYEES

In the summer months, it is important for businesses and employees to be aware of the safety factors that come with heat. Employees are not the only ones who face heat, but the area they work in may also suffer. High-flow, low-speed fans (Big ceiling fans) can help improve employee productivity and build significant safety.
SWEATING PHENOMENON – THE FLOOR IS SLIPPERY
Sweating is mainly found in warehouses and industrial buildings, where condensation accumulates on concrete floors, machines and materials, and humidity increases. The underlying cause of sweat is moisture and when concrete slabs and materials reach dew point temperatures.
Another factor that can cause sweating is salt residue on the surface of the sheet. Salt will work to attract moisture from the air and on the surface of the sheet and can even draw water from inside the concrete.
If your building is sweating, slippery floors pose a serious risk for staff to slip and injure themselves. It can also cause mold to grow anywhere moisture can affect workers' health.
How do HVLS fans solve this dangerous phenomenon?
HVLS ceiling fans can help dry your warehouse by using air movement. If the movement of air inside the building is insufficient, it is necessary to find a means to stratify the air by using HVLS big ceiling fans.
STRESSFUL STAFF
When employees work hard in a hot environment, it is inevitable that they will sweat more, face physical exertion and even dehydration. If an employee is facing heat stress, they will be less productive during the workday, which can cost businesses and more workers.
How can HVLS ceiling fans help save a business from employees suffering from heat stress and potentially quit?
HVLS ceiling fans move large volumes of air because of their size and speed. HVLS big ceiling fans can lower the room's perceived temperature to 9 degrees Celsius. They can also cool an area as large as 1400 m2.
Businesses will not have to worry about the summer heat and heat stress of employees if they have the right cooling solution. HVLS big ceiling fans make employees more comfortable and also work more efficiently.
OFFICE DISEASE SYNDROME
Office Disease Syndrome (SBS) is when a building lacks ventilation to allow germs and illnesses to survive longer in the air. This can make employees more susceptible.
Some common symptoms of SBS in employees are:
Eye, nose and throat irritation
Itching and skin rash
Shortness of breath
Must focus hard
SBS can be a serious threat to the productivity and health of your employees.
How can HVLS big ceiling fans solve SBS?
They improve the airflow in your building, can help with good ventilation. HVLS fans ensure that the area of ​​your building is filled with hot air so that SBS does not become a concern at your workplace.
During the summer, the temperature and humidity inside your workplace are increasing significantly, not maintaining a healthy environment. If the atmosphere is not healthy, the staff will be sick. If employees are sick, they don't come to work and your business loses money and employee productivity.
HVLS big ceiling fans can increase the comfort level for everyone by increasing air movement, keeping employees cool, reducing the temperature and even preventing sweating, heat stress and SBS.