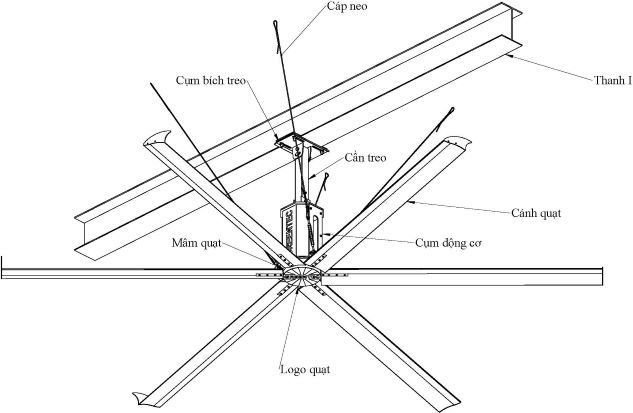 21 Oct

Optimize your HVAC system with Greentec HVLS ceiling fans

Optimizing HVAC systems with new technology can lead to a domino effect of benefits. A great example is the low speed, high flow fan (HVLS GREENTEC). These fans can enhance the performance, efficiency, and sustainability of an HVAC system. They make energy costs lower.
What makes Greentec HVLS ceiling fans different?
Greentec HVLS ceiling fans are often found in factories or similar large rooms where indoor air quality (IAQ) management can be difficult. They are designed to slowly move large amounts of air, maintaining temperature in large facilities. Instead of prioritizing high fan speeds, the large, slow-rotating blades allow them to circulate air in an energy-efficient manner. This is especially valuable in spread areas where Greentec HVLS fans have an exceptionally high return on investment. Greentec HVLS ceiling fans, which range in blade sizes from 7 to 24 feet, are typically hung from the ceiling with no hanging or loose slings. They can be found in two main types of motors: gearboxes or direct drives. Direct drive motors tend to be lower maintenance and less noisy, making them the ideal choice when available.GREENTEC HVLS fans prioritize cost and energy efficiency. Conventional fans that can blow cold air at high capacity all day are expensive and often not as effective in improving air quality as we think. In contrast, Greentec HVLS fans shine when it comes to improving indoor air quality and increasing HVAC system efficiency.
HVAC system performance with efficient HVLS fans
HVAC systems are important in large facilities, but they can quickly lead to high energy costs during warm and cold months alike. Greentec HVLS fans can lead to noticeable improvements in HVAC system performance, increasing efficiency.
It's important to remember that part of what makes hot air uncomfortable is high humidity. Simply removing or dispersing that moisture can make the surrounding air feel much cooler in any space. This is the point where the traditional high power fan is inferior to the Greentec HVLS fan. The Greentec HVLS ceiling fan will create a gentle breeze that helps to evaporate the moisture in the air, resulting in a cooling effect of 7-11°F. This reduces the pressure of the HVAC system, increasing efficiency and reducing costs. energy.
Regulate humidity and stale air
The ability to cool and regulate humidity of Greentec HVLS fans also helps people and devices become more comfortable. Managing indoor air quality can be detrimental to the health and well-being of building occupants. One of the leading solutions that Greentec HVLS fans provide is to solve the problem of humidity management for plant health.
Moisture that accumulates in and on ceilings, walls, floors and other surfaces in the home can lead to the accumulation of bacteria and pollutants. Smooth surfaces pose a safety risk even if microbiological hazards do not materialize. These hazards are often difficult or impossible to see with the naked eye until they develop into a health threat to the building and people.
However, the Greentec HVLS fan can prevent all these dangers. Slow circulating air can make a big difference in IAQ. The Greentec HVLS fan ensures a continuous distribution of fresh air. They also remove moisture buildup, resulting in more comfortable and fresh air.
In addition, Greentec HVLS ceiling fans can prevent common facility problems such as slippery floors that lead to so-called "sweat floor syndrome" and lead to moisture-induced inventory damage. By redistributing humid air evenly and continuously, Greentec HVLS fans prevent moisture from accumulating on any surface, regardless of altitude. This is especially useful in warehouses and restaurants, where moisture build-up can lead to damaged goods and contaminated perishable items.
Use HVLS GREENTEC ceiling fans for sustainability initiatives
Sustainability initiatives have become a major priority in almost every industry in recent years. The great thing about pursuing more sustainable practices is that it often leads to tangible health and economic benefits. The Greentec HVLS ceiling fan is a great example of this.
Greentec HVLS fans save plants and facilities a significant amount of energy by allowing HVAC systems to operate at maximum efficiency. This reduces carbon emissions and saves operating costs. Those savings can then be invested in more sustainable facility improvements. This benefit applies all year round as Greentec HVLS fans can distribute warm and cold air.