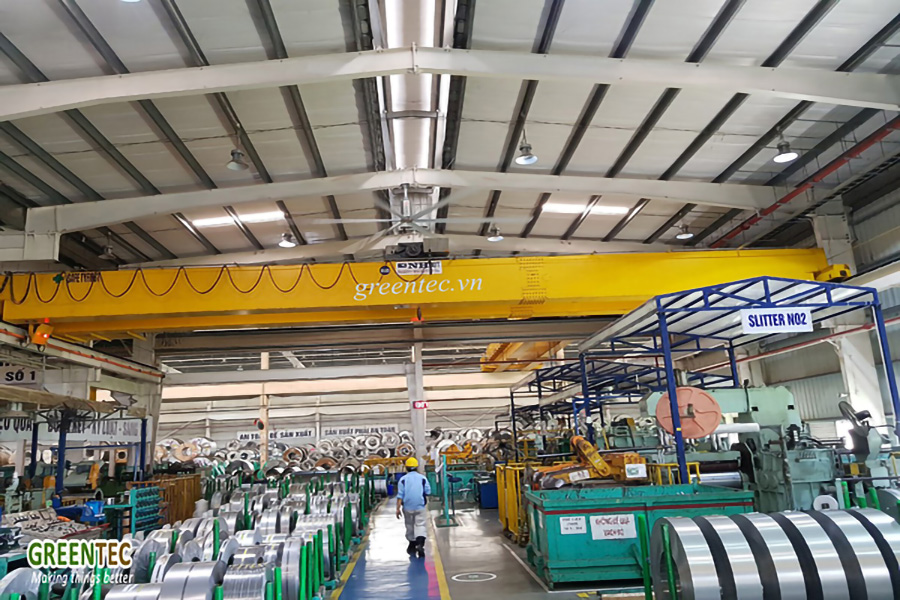 13 Dec

EXPERIENCES WHEN BUYING HVLS INDUSTRIAL CEILING FAN TO COOL FACTORIES

HVLS Industrial ceiling fan is a device that helps to circulate air, creating a cool, pleasant feeling for users. Currently, in the world, the method of using industrial ceiling fans to cool factories and enterprises is very popular, because of its superior features. However, many people still make mistakes when buying industrial ceiling fans. So what is the experience of buying ceiling fan for workshop? Let's find out through the following article.
1. CHOOSE A SUPPLIER OF HVLS INDUSTRIAL CEILING FAN WITH A REPUTABLE BRAND

LIKES TO BUY CHEAP GOODS IS THE COMMON MENTALITY OF CONSUMERS, BUT BRAND IS THE FACTOR TO CONFIRM QUALITY. SO THE EXPERIENCE WHEN CHOOSING TO BUY CEILING FAN OF FACTORY IS TO CHOOSE REPUTABLE SUPPLIERS WHO HAVE BRAND NAME IN THE MARKET

THE FACTORY IS USUALLY QUITE LARGE SPACE. THEREFORE, WHEN USING COOLING FAN EQUIPMENT TO INSTALL AT THE FACTORY, THE SIZE OF THE NEW CEILING FAN SHOULD BE TAKEN CARE OF FOR THE ENTIRE WORKSHOP SPACE UNDER THE CEILING FAN. IF YOU CHOOSE TOO BIG FOR THE AREA TO BE COOLED, IT WILL CAUSE WASTE AND COSTLY ELECTRICITY OR TOO SMALL WILL NOT BE ENOUGH TO COOL THE SPACE NEEDED. TO CHOOSE THE FACTORY CEILING FAN TO SUIT THE BUSINESS SPACE.
Current industrial ceiling fans often have a wing diameter of 3-7.3m. With a large wingspan it will help bring cool air evenly to a large space from 1400 m2.
3. CHOOSE A HVLS INDUSTRIAL CEILING FAN.
CURRENTLY ON THE MARKET HVLS CEILING FANS USUALLY HAVE A CAPACITY OF 0.37-3KW IS A LARGE-CAPACITY INDUSTRIAL CEILING FAN. HOWEVER, DEPENDING ON THE IMPELLER DIAMETER AND THE NUMBER OF PROPELLERS THE MANUFACTURER HAS CALCULATED THE APPROPRIATE CAPACITY. THE IMPORTANT CHOICE IS THAT YOU MUST CONSIDER THE TYPE OF ENGINE THAT THE MANUFACTURER HAS ASSEMBLED THE INDUSTRIAL CEILING FAN HVLS TO ALLOW THE HVLS FAN TO OPERATE CONTINUOUSLY 24 HOURS A DAY.
Large-capacity industrial ceiling fans have a wide range of cooling effects, but they do not consume much more power than small-sized ceiling fans. Therefore, choosing a large-capacity industrial ceiling fan will better satisfy the cooling problem at the factory.
4. CHOOSE A FACTORY CEILING FAN FROM A SPECIALIST
IN THE E-COMMERCE ERA, AN ENTERPRISE CAN SELL ALL KINDS OF PRODUCTS FROM MANY DIFFERENT MANUFACTURERS.
When your business wants to buy factory ceiling fans available from different suppliers, you may want to buy one from a company that sells a variety of products. However, it is best to buy a fan from a company that specializes in manufacturing, designing and installing factory ceiling fans.
With the experience of selecting the ceiling fan of the factory mentioned above, we can choose for ourselves a suitable product to cool the entire workshop space. Also choose the longest quality product.